There are several ways to locate content using Exchange Archive. You can find programs using Categories, Most Recently added or by using the search feature.
Locate by Category
This method allows you to drill into the exchange content by pre-described categories. Click on the category of choice to see content:

You'll see the content relating to the category. Where subfolders exist, they are listed under the category title, and can be drilled into further to access content within the sub folder:

Where no sub folders exist, a list of content within the category will be displayed:

Content within a category can be ordered by clicking on the order filter button:
Recently added
A to Z
Z to A
Newest
Oldest
Series, Title A-Z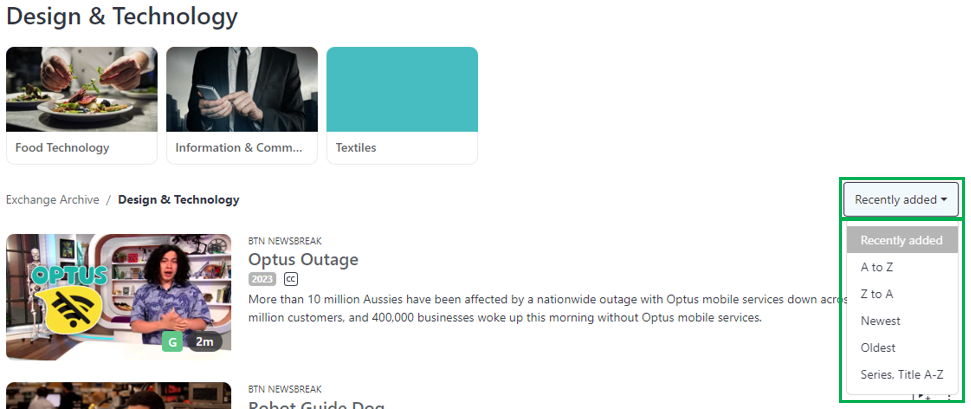 Locate by Most Recent
This method allows you to see the content by the most recent added to ClickView. A scroll bar at the right-hand side of the screen will allow you to scroll through the videos.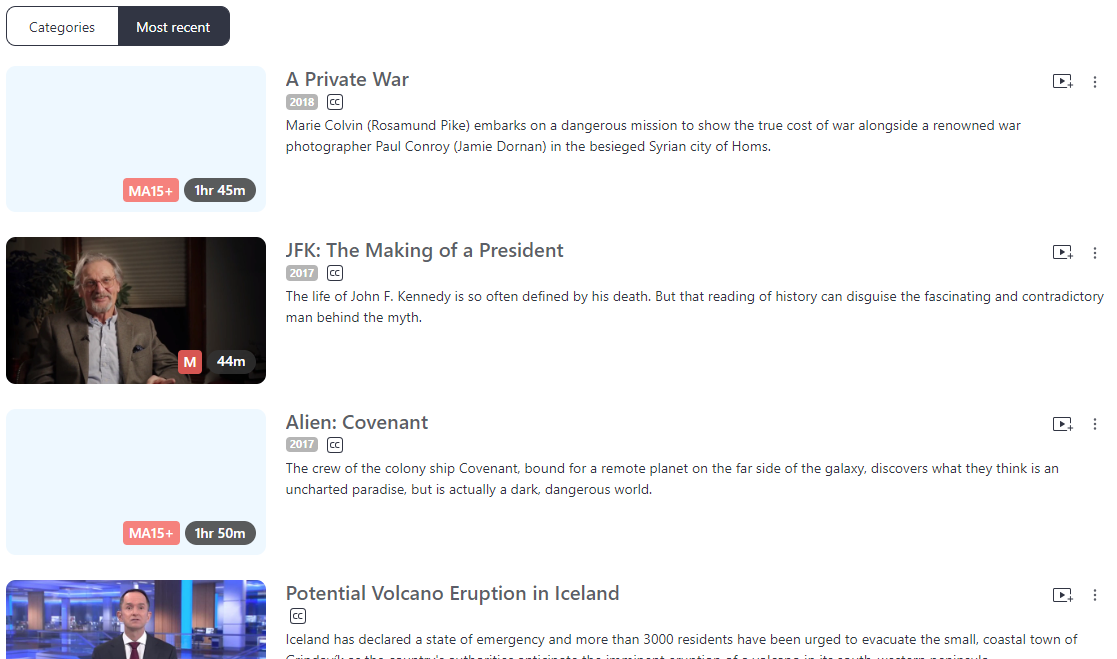 Locate by search
Can't find what you're looking for by Category or Most Recent? Try our search bar at the top of the screen. ClickView Exchange Archive will return a broad range of content that matches the keyword/s you've searched for: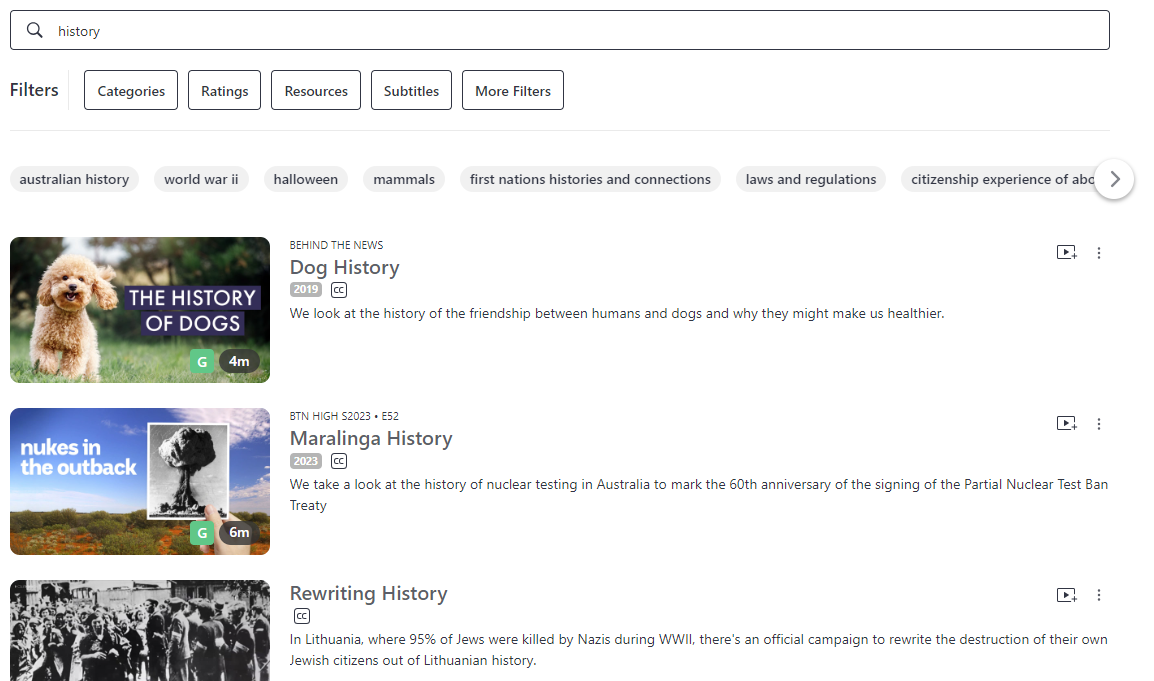 Filtering your search
With a keyword search, it's possible to narrow the search results by applying a search filter. A single or multiple filters can be applied at any one time.
Predefined filters can be seen under the search bar:

Filter by Category
Narrow your search by predefined categories: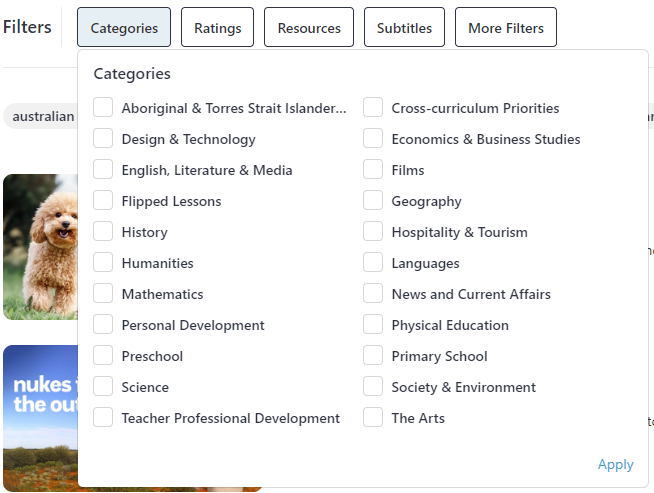 Filter by Rating
Narrow your search by the appropriate age rating for your intended audience:

Filter by Resources
Narrow your search to only show videos with learning resources such as lesson plans, atom guides and teacher packs:

Filter by Subtitles
Narrow your search to only show videos with subtitles:

More filters
An additional set of filters are also available. Production Year, HD content and Duration are all available to fine tune the search results: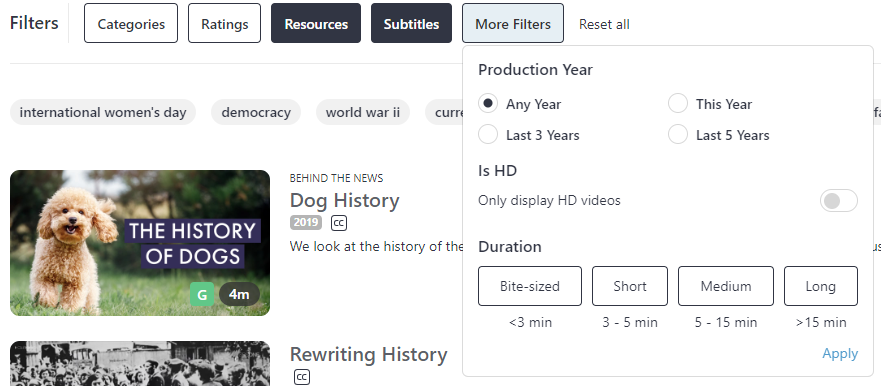 Adding a video to My Videos
With your video found, its time to add it to your videos. Adding a video can be done in two ways.
1. From the list of content, click the Add video icon:
2. From the video itself. Click on the relevant video and then the 'Add to My Videos' button. Your video will appear in My Videos and be available for use.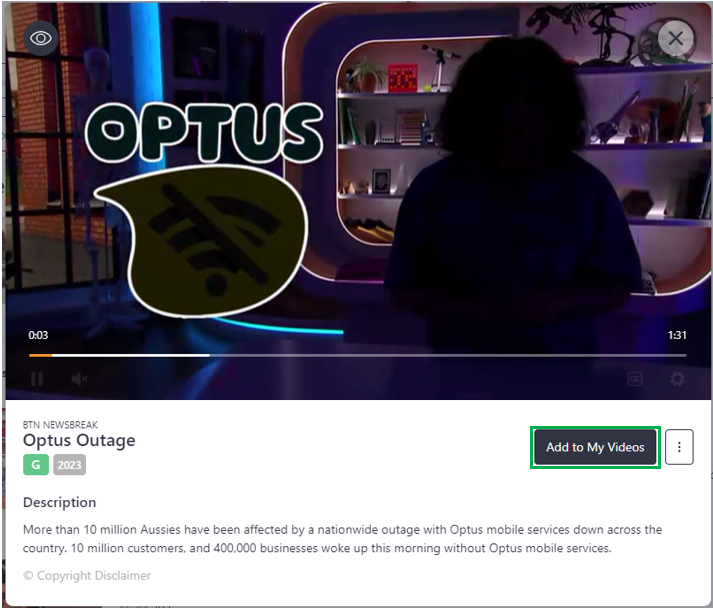 A popup notification will appear once the Add button is clicked. The video will appear in My videos after a short processing time. Click the 'Watch video' button to go to My Videos:
Find something not quite right, identified an improvement, or want something removing? Let us know by suggesting an edit!