Closed Captions or subtitles, are one of the accessibility options within ClickView. Closed Captions can be enabled for any video within ClickView by clicking on the 'CC' button within video player: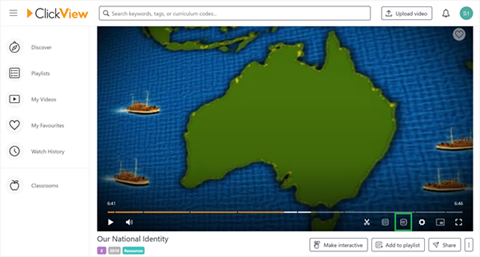 Clicking on the 'CC' button will present you with options of Languages in which the subtitles are available and also has an option to search for subtitles. Select your language preference to enable the subtitles: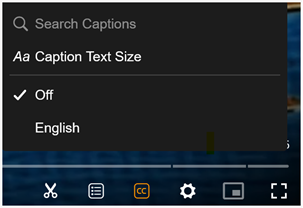 The 'Aa Caption Text Size' allows you select the size of the text you wish to be displayed as subtitles.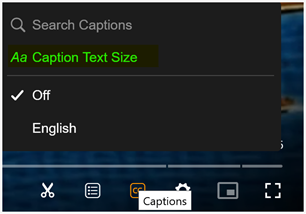 Small text subtitles:

Medium text subtitles:

Large text subtitles:

What is Subtitle Search?
ClickView's subtitle search allows you to pinpoint the exact piece of content that is relevant to your class, which you can then share with students.
1. With Closed Captions enabled, the Search Captions option becomes available.
2. Type into the search box for a word or caption, and you'll see all references to your query:

3. Select one of the options from the search results to instantly jump to that part of the video!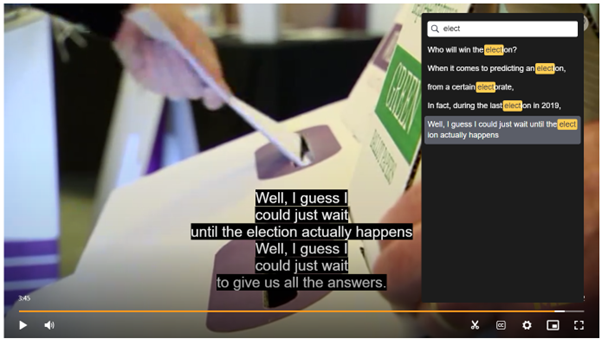 Is there a default for subtitles?
ClickView administrators can apply a default toggle for subtitles. The subtitles can be toggled on or off to suit whilst watching individual videos, by following the steps above.
1. Within ClickView, click on your avatar in the top right of the screen, and select 'Settings' from the drop down menu.
2. From the settings screen, click on 'Video playback' from the School Management options. At the bottom of the screen, you'll see the option for defaulting subtitles: