Users are able to upload their own videos to the ClickView platform. This enables users to share the videos directly with students or play the videos in the classroom.
There are two methods to upload a video, in ClickView:
Upload Video button
Click the "Upload video" button located at the top right of the screen:



Find the video stored on your computer and select "Open":



The video will then start uploading. You will see the uploading icon on the "Upload video" button at the top right:



To make any changes or to check the progress of the uploading video click the "My Videos" heading on the left hand menu:



To make any changes to the metadata select the pencil icon:




Enter the new details and click "Save changes":



To cancel the upload select the rubbish bin icon:



Select "Yes":



Once the video has finished uploading and processing, you can play the movie by clicking on the thumbnail or title or do a variety of other things using the options icons to the right of the video:



Drag and Drop
To add a video into your 'My Video' simply drag the video file from your device into a blank area in ANY ClickView page. You can upload more than 1 video at a time: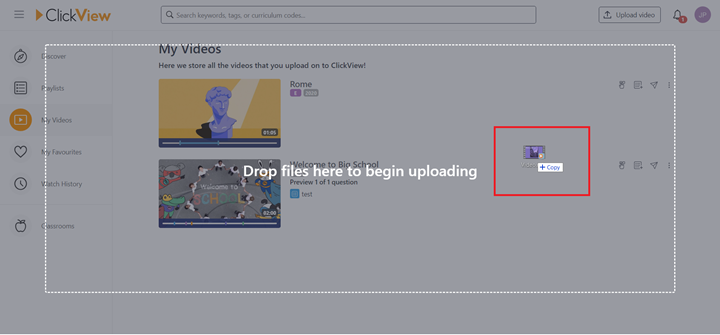 NOTE: Video formats that we support include: AVI, MP4, MPEG, MOV, MKV, WEBM, WMV.